Laser Therapy
Austin Hair Graft provides the most powerful and effective low level laser therapy devices currently available in the US and International market.
Hair Loss Laser Therapy Austin, TX
Laser technology has been a key non-invasive option for hair restoration patients since the mid 1960s. In 1964, Professor Andre Mester was experimenting in Budapest, Hungary with the use of low-level laser energy ("soft,cool" photo light that penetrates the surface of the skin with no heating effect, no damage to the skin and no known negative side effects) to treat skin conditions in diabetic patients.
As he began using his device, he noticed with his patients that sores were unable to heal ….were healing. He also observed an accelerated hair growth and thickening of hair in the areas where he used the laser. Professor Mester's chance discovery was the beginning of an entire new science devoted to developing practical medical procedures using low-level energy lasers.
Then Low Level Laser Therapy was used for Medical Treatments. 

Since Professor Mester's discovery, low level laser therapy technology has continued to evolve. We can now offer convenient in-office and at-home laser care for patients looking to stimulate and restore their thinning hair.
Have a Question About This?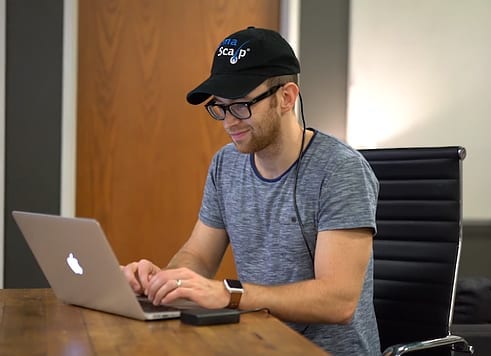 REVIAN RED Hair Growth System
REVIAN RED is an ideal solution for hair regrowth, thinning hair, maintaining healthy hair and preventing hair loss. Treat at home, on your schedule, while doing what you love. No messy treatments or unwanted side effects.
The treatment starts below the skin at the cellular level to produce new hairs by releasing natural stores of nitric oxide at the scalp to renew the nutrients that allow your hair to grow. If you are compliant with the daily 10-minute treatments, you should stop losing hair quickly and start seeing new growth within just a few months.
Use code HALLHAIR for a discount!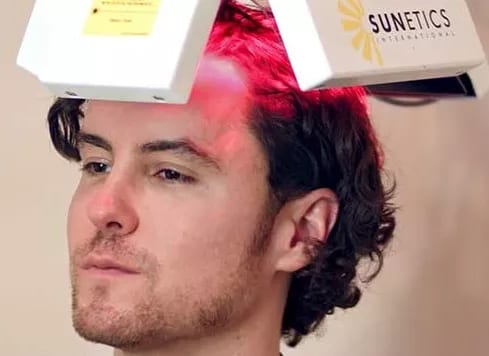 The Sunetics™ Laser uses Low Level Laser Therapy (LLLT) to stimulate the hair follicles, healing them and helping them to regrow into thick, normal sized hairs.
Our FDA-approved technology offers no pain, no drugs, no surgery and no side effects. The Science behind the Sunetics™ Hair Growth Laser is simple: Laser Light Heals the Follicle.
The increase in cellular activity and removal of harmful DHT allows the follicle to heal and regrow normal, healthy hairs.
ATP production to energize & repair the weakened follicle
Blood micro-circulation to the follicle
Oxygen uptake and calcium ion mobilization
Rate of removal of harmful DHT
DHT chokes the hair follicle until it can no longer grow thick, long terminal hair.

The Sunetics Laser energy is applied to the scalp and absorbed by the follicles.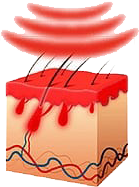 Over the next several months, the follicles begin to heal and grow full-sized hairs.